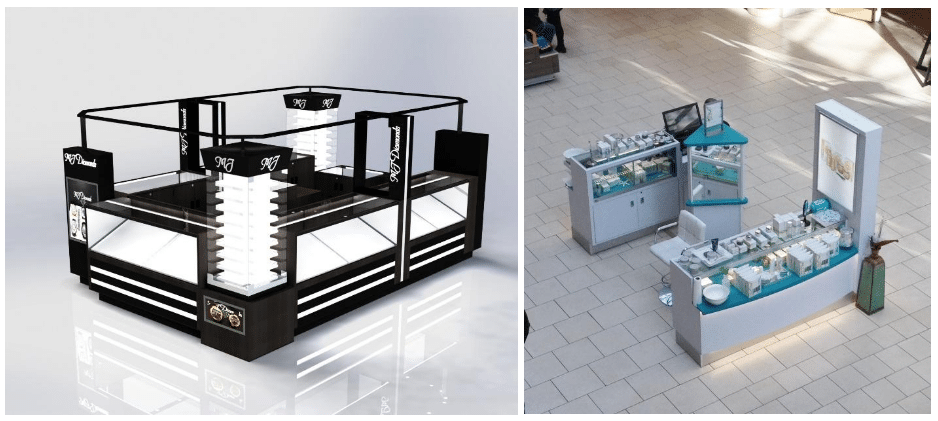 When it comes to kiosks, many companies choose a "one-size-fits-all" model, only to discover it does not meet the unique needs of their business. An experienced custom kiosk manufacturer, like Milford Enterprises, helps you design a functional, distinctive, and attractive kiosk. How do we help you achieve this?
We Help You See the Big Picture
As the saying goes, you never get a second chance at a first impression. If your kiosk does not grab shoppers' attention, they will just keep walking. Your design must be stylish and eye-catching while still being functional. Every product should have a place and your displays should draw attention while showing off your wares in their best light.
You must consider the type of customer experience you have in mind. Do you want a standard rectangular kiosk design or an open design that allows customers to step into your space, making it feel more like a separate store and less like a stop along their way to the "real" stores? Or perhaps you were thinking about a smaller, product-specific kiosk that offers self-service options? Our custom kiosk design team will help you choose a concept that best fits your needs as a business.
We Help You Analyze the Small Details
Do you need storage? Specialty lighting? Additional power for equipment? Counter space that will do double-duty for product demonstrations as well as sales? Flexibility is one of the benefits of a custom kiosk, making it both easy to use and easy to shop.
Have you thought about what your branding will look like? If you want your business to stand out to customers, you do not want just any kiosk. From the materials, colors, and finishes you choose, to fixtures and signage, we can help you implement clear, effective branding throughout your custom kiosk design.
We Help You Stay on Budget
Customization does not have to be "all or nothing": you can pick and choose all the bells and whistles for your kiosk. By only opting for the details that have the biggest impact on your unique business, you can save on costs in other areas. That is why our design team will present you with a variety of configurations to choose from, all of which meet the form and function needs of your business. Our goal is to match you with a custom kiosk that fits your needs as well as your budget.
Choose a Custom Kiosk Manufacturer with Over 30 Years of Experience
Milford Enterprises Inc. helps bring your kiosk from dream to reality. We are a leading custom kiosk manufacturer with a commitment to excellence and customer satisfaction. From design to production, we are your all-in-one custom kiosk manufacturer. Call us today at 215-538-2778 or email us at sales@milfordei.com to learn more about our custom kiosk design solutions.