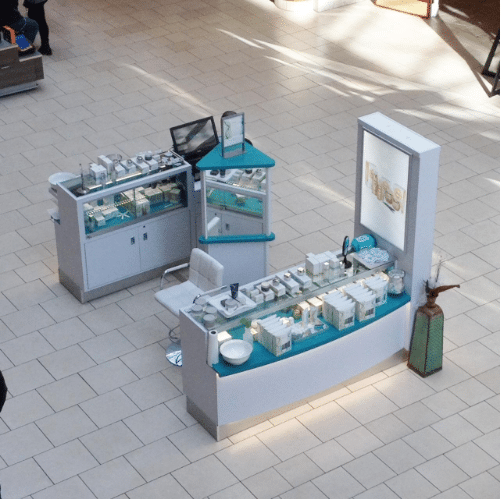 When considering kiosk design ideas, it is important to remember that one size does not fit all. The product, sales approach, and operation requirements are all important factors in what will make the design successful. A good balance of style and practicality is necessary to ensure your business is getting the most from your kiosk design.
While each kiosk presents its own unique set of challenges, there are some basic design principles to keep in mind to guarantee your kiosk will meet all your expectations.
Three Elements of Great Kiosk Design
A great aesthetic – Your kiosk may have NASA-level efficiency, but if it doesn't draw in customers, it's ineffective. Kiosks have to capture customers' attention and motivate interaction with the salesperson. Proper branding is the first step in achieving these goals: if customers don't know what you are selling, they won't be interested. The perfect kiosk also needs the right combination of size, color, and shape to display your products in the most attractive way. The physical form and appearance of a kiosk is the first thing that potential customers encounter and has the most influence over their decision to stop.
Simplicity and easy navigation – How do you feel when you walk into a cluttered store? Do you feel relaxed and ready to shop, or overwhelmed and ready to bolt for the door? A cluttered kiosk is likely to repel customers, while a simple kiosk design is attractive and engaging. Kiosks are often impulse-stops rather than a targeted destination. Where customers are looking for fast, efficient service. Being able to quickly and effectively show customers your products and help them decide on a purchase will lead to increased sales and repeat business.
A specific focus – It is important to go into the kiosk design process with a clear idea about what you want the kiosk to accomplish. You have a limited space to work with, so every inch needs to work together to achieve the overall goal. Your kiosk design should be easy to operate, attractive to the consumer, and have a simple, clean interface.
Milford Enterprises: the Experts in Kiosk Design Ideas
For over 30 years, Milford Enterprises has been designing and creating top of the line kiosks for our clients. With 100% customer satisfaction guaranteed and complete in-house warehousing, shipping, fulfillment and installation capabilities, Milford Enterprises is the best choice for kiosk design and production. We are available to answer your questions by phone at 215-538-2778 or by email at sales@milfordei.com: we are confident that after you experience our innovative designs and outstanding customer service, you will be glad you chose Milford Enterprises.