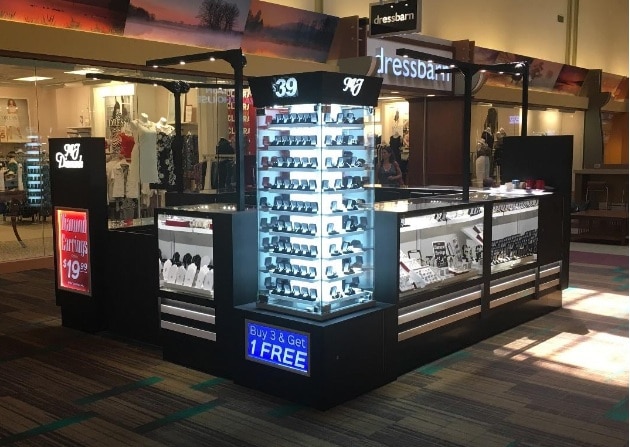 When people hear the word "design" they often think of aesthetic, how something looks. But effective kiosk design focuses on both style and practicality. If your design looks beautiful but doesn't offer adequate storage, clear branding, or an enjoyable customer experience, it won't serve you well. There are three aspects of kiosk design that have the most impact on your kiosk:
Storage Space vs. Display Space
The value of your product often dictates your storage needs. For example, cellular kiosks prefer not to leave their products on display overnight, even with security measures in place. They require secure storage space that can easily accommodate all the items on display. Traditionally kiosks achieve this by making use of split cabinets, where the bottom or rear portion is solid and designed for storage, while the top portion is the showcase. At Milford Enterprises, we can help you design storage and display spaces that are outside the traditional box, giving your kiosk a unique look while meeting all your needs.
Walkthrough vs. Traditional Kiosks
These are the two primary styles of kiosks. As their names suggest, walkthrough kiosks allow customer to physically enter the space and move among displays, while island kiosks are self-contained with customers on the outside of the displays. Each option has unique benefits:
Walkthrough kiosks offer more display space and an interactive customer experience. They have an intimate, boutique feel, encouraging customers to browse and explore products.
Traditional kiosks offer more storage space and better theft protection. Customers can easily locate a salesperson to ask questions and make a quick purchase.
Customization
Most kiosk design companies offer standard models that may or may not be customizable to your needs. Why settle for something off the rack when you can have a one-of-a-kind kiosk built to meet your exact specifications and needs?
At Milford Enterprises, we build kiosks from the ground up. We don't have a showcase of models for you to choose from: our design team sits down with you to create a unique kiosk all your own. Everything is done in house, from design to manufacturing to delivery, assuring your kiosk will meet all your quality and design expectations.
Choose a Company Experienced in Kiosk Design
For over 30 years, Milford Enterprises has been creating unique and effective kiosk designs with a goal of 100% customer satisfaction. No design is too complex for us! Call us today at 215-538-2778 or email us at sales@milfordei.com and let us create a unique kiosk design for you.