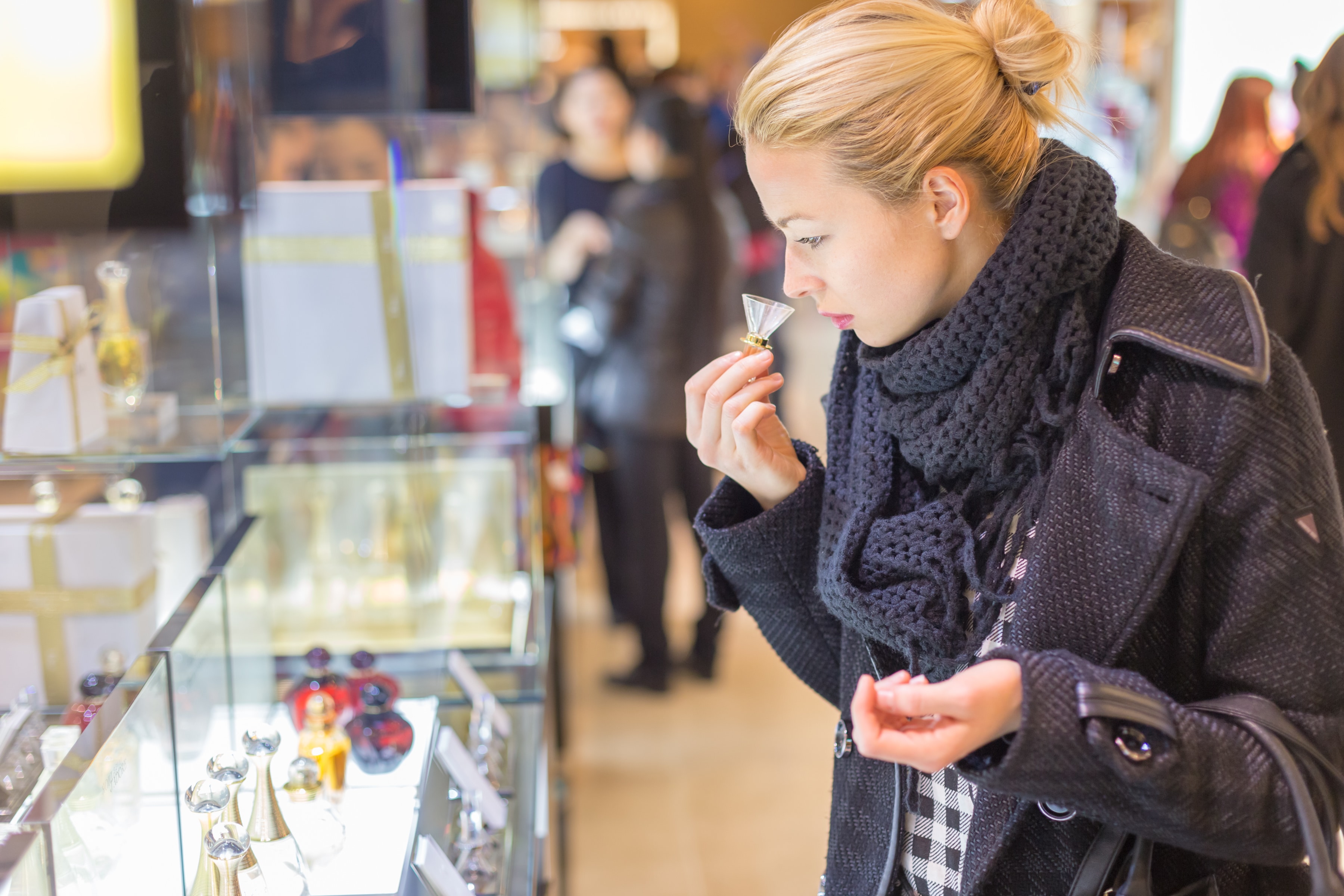 Mall kiosks are big business. With lower overhead than their inline counterparts, kiosks can generate a lot of business – provided they are designed properly. An effective perfume kiosk design will create an enjoyable customer experience. But, be sure to avoid these 5 design mistakes.
5 Don't's of Perfume Kiosk Design
Don't oversize your kiosk – When working with a limited footprint, you need to maximize the usage of every inch of space. However, choosing too many bells and whistles, or displays that are too large for your cart, can result in a perfume kiosk design that is off-putting to customers. A simple, uncomplicated design with properly scaled features will show off your products from every angle. This helps customers connect with your product and come in for a closer look. A company experienced in kiosk design can help you create a one-of-a-kind kiosk that meets all your needs without excess.
Don't create clutter – If your product displays are haphazard and filled to the brim, customers are not going to stop. Cluttered displays are overwhelming and turn your merchandise into a blur. Simple, eye-catching displays draw customers' attention and encourage them to come in for a closer look. If a shopper can easily spot their favorite perfume, they are likely to stop. Who wants to dig through a cluttered display searching for what they want?
Don't have a "no touch" policy – Being able to interact with products increases the likelihood of a sale, especially when it comes to perfume: people want to know how it smells on them, not just in the bottle. By encouraging hands-on customer interaction, you give your salespeople more opportunity to cultivate the one-on-one customer relationships that really drive sales.
Don't create barriers between your salespeople and your customers – Research shows that 70% of buying experiences are based on how the customer feels they are being treated. Your perfume kiosk design needs to be easy for your salespeople to navigate, allowing them to stay focused on the customer and give excellent, efficient service. Designs that allow salespeople to interact directly with a customer, rather than across a counter, help give a sense of personal touch to sales interactions.
Don't create a boring sales experience – There's a reason why perfume bottles are colorful and uniquely shaped: their designers know the value of visual appeal. Your perfume kiosk design should engage a customer's senses and create cohesive branding. Effective branding is crucial to creating repeat customers. In big box stores, it is easy to cover the space in branding. The small footprint of kiosks create a unique challenge that can be easily overcome by an experienced perfume kiosk design company.
Milford Enterprises, Inc: Experts in Perfume Kiosk Design
For over 30 years, Milford Enterprises, Inc. has been designing, building custom kiosks and helping companies achieve retail success. If you have questions about creating a display or retail environment call our sales professionals at 215-538-2778 or email us at sales@milfordei.com.