For businesses who rely on the interaction between cashiers and customers, cashier shields are an essential part of protecting both employees and visitors against the spread of COVID-19. The protective shields manufactured at Milford Enterprises are easy to order, completely customizable, and made in and shipped from the USA.
Cashier Shield Specs & Features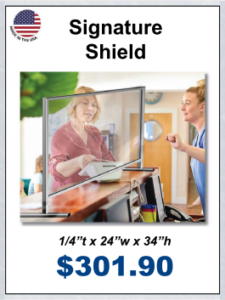 Depending on the needs of your store, Milford Enterprises offers several ready-made options and options for customizing your cashier shield. For example, for grocery stores where the checkout process involves placing items on a conveyor belt, we offer a shield with openings on both sides for easy ringing up and bagging. For banks where paper and other items are passed back and forth between customers and staff, we offer shields with an opening at the bottom for transactions. We also offer portable shields for those businesses whose set-up may change daily or hourly depending on their needs.
Our cashier shields:
Come in 6 different ready-made varieties or can be custom designed to suit your needs
Are made of durable acrylic
Can be made with polished edges or framed edges
Can be mounted with screws, velcro or free-standing
Are made in and shipped from the USA
View our list of readily available protective shields here.
Contact Milford Enterprises for More Information, Customizations, & Bulk Pricing Info
For some of our shield designs, bulk pricing is available and a sales associate at Milford Enterprises can help you complete your order. For questions, more information and specifications for custom sizes, please email sales@milfordei.com or call at 215-538-2778. We have over 35 years of experience in retail display and design and we'd love to help you overcome safety challenges related to the pandemic to keep your business operating safely. We know that the health of employees and customers is the top priority for business owners, and we're honored to partner with so many to create a safe and profitable environment.