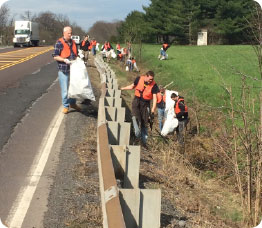 Milford Enterprises, Inc. has over 35 years of experience in cutting edge design and manufacturing. Founded in 1983, Milford quickly became a leader in custom millwork. We have built long-term relationships with a multitude of clients on the foundation of incomparable customer satisfaction and high-quality manufacturing. Our customer base includes longtime leaders in their respective industries as well as startups looking to grow their branding and impact. We are adaptable and thrive in the ever-changing retail industry.
Headquartered in Quakertown, Pennsylvania, Milford prides itself on USA manufacturing in our onsite facility. As such, we have been a fixture in our community for decades and participate in local programs such as blood drives, adopt-a-highway, supporting our troops, and adopt-a-family. We are also environmentally conscious and strive to minimize our carbon footprint. Initiatives include the utilization of in-house material recycle programs, environmentally friendly adhesives, and aggressive VOC systems whenever possible.
Check out our company portfolio for more information about our capabilities and projects.