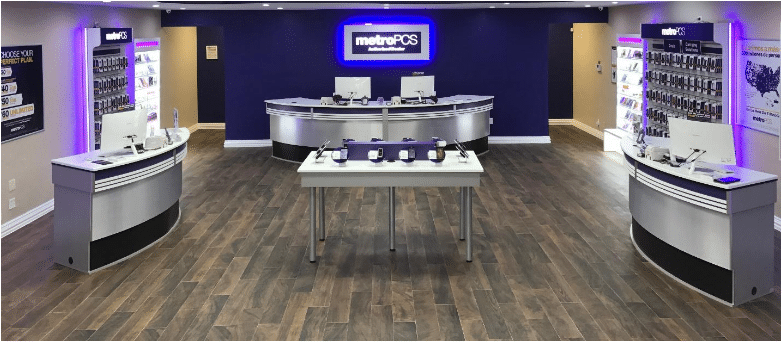 When it comes to retail, it is important to maximize your sales on a per square foot basis, or the average revenue the business generates for every square foot of sales space. When used correctly, retail space can be your most productive and efficient salesperson. How do you make sure that it is working at its full potential? By using the art and science of visual merchandising.
Visual merchandising covers a wide array of retail design topics, including creating window displays that greet prospective customers, designing signage and branding, choosing a layout that optimizes traffic flow, and much more. Your cell phone retail display should not just catch customer's attention, but convince them to make a purchase as well. Here is how Milford approaches creating impactful wireless carrier retail displays:
We keep your target customer in mind

– Knowing your customer goes beyond demographic data such as age, income, and education level – what about their behaviors and

psychographics

? You're not just targeting individual customers, you are also targeting lifestyles. Are tablets in high demand in your area? Display them prominently at the front of the store. Do customers frequently come in looking for the latest phones? Have an impressive "new models" display greet them as they enter.
We appeal to multiple senses

– While a cell phone retail display can't appeal to customer's smell and taste senses, they can certainly be sight and touch friendly. These displays should be visually stimulating and offer a tactile experience for the customer. After all, the product they choose will spend a lot of time in their hands. Some stores' theft prevention techniques make it difficult for customers to interact with products. There are a variety of theft prevention options out there, but we recommend options that allow customers to get a feel for products while ensuring the devices stay in the store.
We design a comfortable flow through the retail space

– We consider ease of access in all of our designs: customers should be able to approach them comfortably, without bending or straining; Customers should be able to maneuver easily through displays without bumping into other customers; Displays are laid out so that customers can easily see products while scanning the room. All these aspects help make for a relaxed, pleasant shopping experience and increase the likelihood of a sale.
Our fixtures promote strategic merchandising

– Have you ever noticed that grocery stores stock dips alongside chips, and jelly next to peanut butter? There a couple reasons for this: one, people are busy – they want to be in and out fast, not hunting around a store for what they need. Secondly, by suggesting pairings to a customer, you increase the chances of them buying that additional item. By displaying phone accessories (such as chargers, screen protectors, or headphones) next to a smartphone display or tablet cases alongside tablets, you may prompt the customer to purchase an accessory they had not initially planned on.
We use lighting to direct attention and reinforce branding

– This is another way to engage customer's senses and steer them toward products. Using lighting around your products is a surefire way to grab customers' attention. It subtly highlights items, for example backlighting a cell phone case display draws the eye to the products within the display. Using colored lights can also reinforce branding by adding a glow to the fixtures in your signature color.
Bringing it All Together in Our MetroPCS Store Design

The Milford team was recently challenged by a MetroPCS store to design a retail layout around existing bulletproof glass that the customer needed to preserve. Milford built custom 36" tall counters that fit perfectly under the bulletproof glass, along with custom boxes to hold the pass-thru money trays. A custom piece in MetroPCS' signature purple color was also designed and manufactured to sit between the glass and the ceiling. By utilizing the existing glass, we saved our customer thousands of dollars!
The customer also asked for a full lighting package. In addition to lighting around the display cases, we created a purple LED halo light kit for the walls holding accessories and the MetroPCS Authorized Dealer sign. This eye-catching display is a prime example of branding: it draws attention and reinforces the color scheme and logo of the company.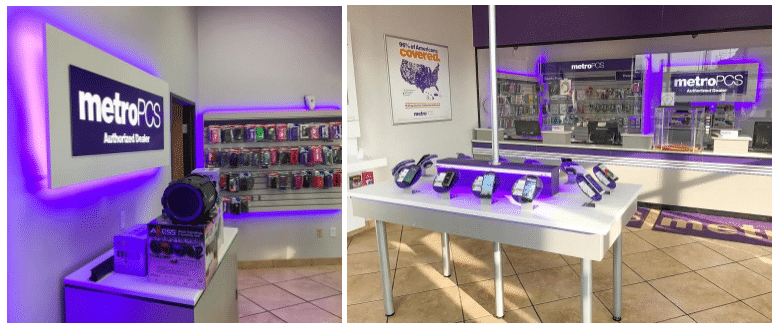 Milford Enterprises Inc.: Your All-In-One Wireless Carrier Store Display Solution
Milford Enterprises boasts an all-in-one manufacturing facility, providing our clients with one-stop shopping for quality construction, value engineering, competitive pricing, and unmatched customer service. Proudly based in the U.S.A., we are a custom display manufacturer committed to 100% customer satisfaction. If you are in the market for a top-of-the-line store display, we are available to answer your questions by phone at 215-538-2778 or by email at sales@milfordei.com.