For nearly forty years, Milford Enterprises has been providing clients with beautiful, high-quality, custom counter top display cases. From mall kiosks to standalone stores, we have produced counter top display cases for clients in a wide variety of industries. Our commitment to unmatched performance and attention to detail allows us to deliver the displays and fixtures you need to boost sales and strengthen your brand. Take a look at a few of the innovative display cases we've produced for our clients:
Godiva Chocolates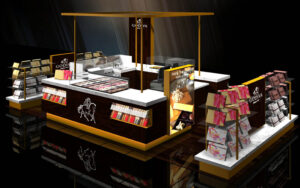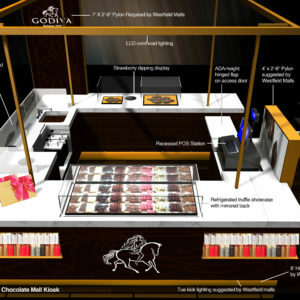 Milford Enterprises' help was enlisted to develop the "Truffle Express" kiosk design for Godiva's California expansion. Godiva needed counter top display cases that would match their overall aesthetic while offering practical cooling functions to preserve their products. They turned to Milford because of our long history of meeting the unique needs of clients in the food and beverage industry. Milford was able to design a mirrored, refrigerated display case that keeps the truffles fresh while delivering an elegant presentation.
Curio Wellness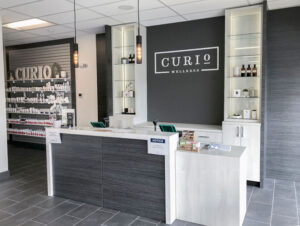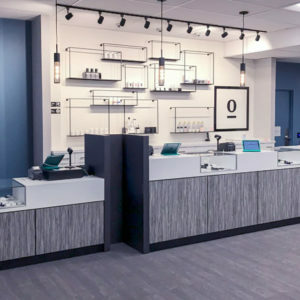 When Curio was building their first dispensary, they had a very specific design aesthetic in mind: they wanted a clean, modern-looking holistic healing center. Curio enlisted Milford as their manufacturing resource, and we were able to provide the high end details and designs that delivered the exact look they had requested. This included inlaid counter top display cases that allow customers to easily view products and facilitate interaction with the staff. The sleek, minimalist lines of these cases blend seamlessly with the rest of the store and perfectly match the brand's aesthetic.
Piercing Pagoda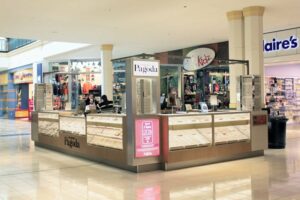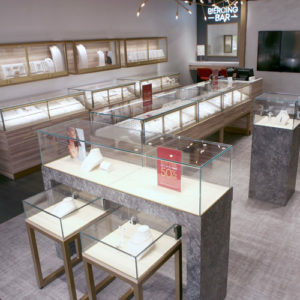 Milford Enterprises has provided counter top display cases for Piercing Pagoda's kiosks, as well as their inline stores, for years. Our expert design and manufacturing team knows how to perfectly light cases to showcase jewelry (and other products) at their best. No matter what design challenges you may have – whether it is harsh ambient lighting or poorly placed electrical outlets – we can design a solution so that your products are always the star of the show.
Milford Delivers High-Quality Modern Counter Top Display Cases
At Milford, we handle every phase of your project in-house, from designing and building to delivery and installation. This allows us to ensure the highest quality standards and offer competitive pricing. Our design team works closely with you to understand your needs, goals and budget, so that we can deliver exactly what you need.
If you need innovative counter top display cases, call Milford today at (215) 538-2778 or email us at sales@milfordei.com.