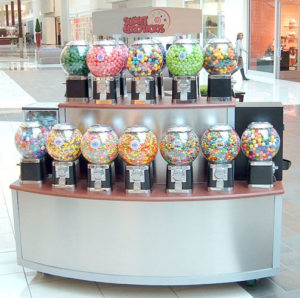 At Milford Enterprises, we have been designing and building custom kiosks for our clients for nearly four decades. As a top kiosk manufacturer, Milford has designed premiere kiosks for several major businesses, helping them revamp their image, expand their locations and boost sales. Whether your business is just starting or needs an update, Milford can deliver custom kiosks that increase brand recognition and sales.
Our Expertise Boosts Your Bottom Line
As an experienced kiosk manufacturer, Milford's design team helps you create a custom kiosk that meets your company's unique needs. For example, does your kiosk need more storage or more display space? Are your products better viewed with a walkthrough kiosk or a more traditional design?
We also help you develop your brand's aesthetic for easy recognition and a cohesive look throughout your locations. With custom signage, branding and lighting, your kiosks will stand out from the crowd.
And with our value engineering, customization doesn't have to be all or nothing. We help you stay on budget by sticking to design elements that have the most impact on your business, rather than adding all the bells and whistles. That is why our design team offers multiple configurations to choose from, all of which meet the form and function needs of your business. Our goal is to provide you with a custom kiosk that matches your goals as well as your budget.
Three of Our Successful Kiosk Designs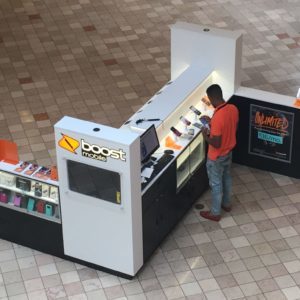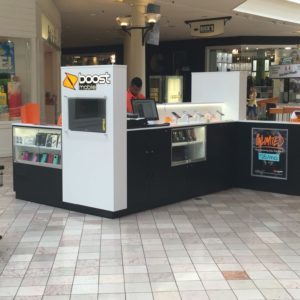 Milford was able to accelerate the start of Boost Mobile's kiosk program while adhering to mall design criteria and staying within budget constraints. The result was a high quality product that met tight deadlines for production and installation.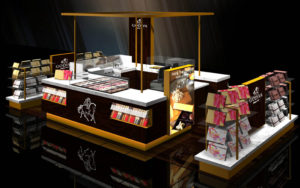 Godiva requested Milford Enterprises' help in developing the "Truffle Express" kiosk for their California expansion.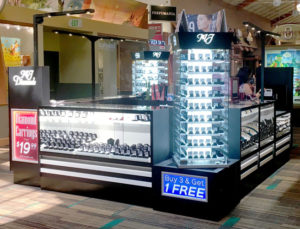 Milford designed, manufactured and installed MJ Diamond's first kiosk in the Michigan market.
Milford Enterprises: Your Trusted Source for Custom Kiosks
Whether you need a kiosk design that conforms to specific mall regulations or complies with social distancing and sanitizing guidelines, the expert team at Milford Enterprises can deliver a stylish, high performance kiosk that matches your specifications and exceeds your expectations. As an end-to-end kiosk manufacturer, we design your kiosk and then build it in-house at our state-of-the-art U.S. facilities. We even handle delivery of your kiosk and offer installation services. So if you need a kiosk design that delivers quality and performance, call Milford Enterprises today at (215) 538-2778.