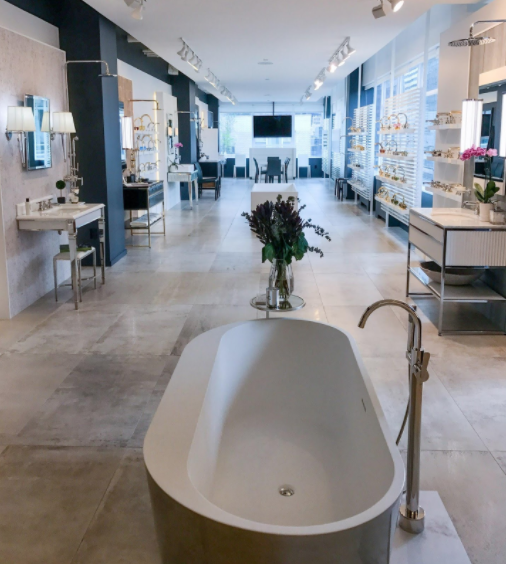 High-end retail fixtures should be crafted with care and precision, much like a work of art. At Milford Enterprises, we have been creating unique, high-quality retail fixtures for our clients for over three decades. As a leading designer and manufacturer of custom retail displays and fixtures, Milford Enterprises knows how to enhance your brand, broaden your exposure, and increase sales. With our innovative designs, valued engineering processes, quality construction, competitive pricing and outstanding customer service, Milford Enterprises is the partner you've been looking for.
Why Choose Milford Enterprises, Inc.?
Our dedicated sales and account management teams are committed to 100% satisfaction and building long-term relationships with our clients. By handling every phase of the project in-house, we can maximize material efficiency and minimize labor expense. Our skilled display and retail design teams will make sure your high-end retail fixtures are state of the art.
We understand that the retail experience is about more than just a pretty space: it's about creating an environment that draws traffic and boosts sales. Our designs are always crafted to improve marketing. Whether your high-end retail fixtures require innovative solutions or need to promote a stronger brand presence, our designs are sure to please.
Our capabilities include:
Prototyping
Print and décor
Fixture Design
Value Engineering
Wood and metal fixture production
Metal and acrylic fabrication
Inventory storage and management
Delivery
Installation
High-End Retail Fixtures, from Concept to Delivery
Devise – In the initial meeting, our account managers discuss the client's unique challenges and needs, then brainstorm concepts and formulate a plan. We assign sales team research, write up a design request, and define deadlines.
Design – Next our designers use 3D modeling software to present the clients with a variety of model options and configurations that display both form and function. Our designers are extremely proficient in creating conceptual designs and providing realistic renderings. They establish collaborative relationships with our clients to ensure customer satisfaction.
Develop – Once a design has been approved, it is engineered and manufactured at our in-house facilities. Both our equipment and facilities are cutting edge, and our manufacturing teams are highly trained. Your high-end retail fixture will be 100% made in the USA and built to the highest quality standards.
Deliver – Our dedicated shipping team coordinates delivery of your product in a timely manner. With drop shipments, nationwide shipping, and installation services, we can meet all your delivery needs.
Call Milford Enterprises for all Your High-End Retail Fixtures
When it comes to marketing, it's important to put your best foot forward. For high-end retail fixtures that will stand out from the crowd, call the trusted team at Milford Enterprises today: 215-538-2778 email us at sales@milfordei.com.