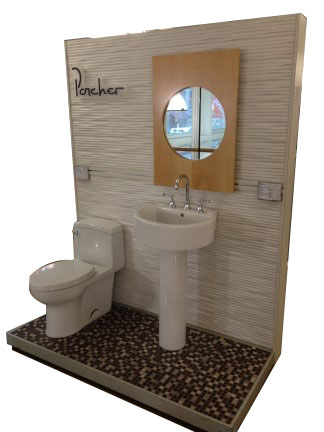 The traditional retail store model has been receiving a makeover in recent years. As consumers increasingly want a shopping experience, retailers are ditching their old method of packing as much product onto shelves as possible and are instead looking for innovative and engaging ways to display their merchandise. Interactive retail store displays allow consumers to fully experience a product before purchasing, giving brick and mortar stores a much needed advantage over online stores.
Why Interactive Retail Store Displays?
Simply put, the more of a customer's senses you can engage, the more likely you are to make a sale. Being able to touch, feel, and try out your products influences a customer's decision of whether or not to make a purchase. And this interaction still benefits you even if it doesn't lead to a sale because it is a positive experience for the customer. They were able to make an informed decision, which makes them more likely to shop there again as they will feel confident in their purchases.
There are many ways to make your retail displays interactive. You can have samples of the product available for customers to try, or create a demonstration so they can see how the product works. You can include signage that answers frequently asked questions or tips on how to get the most from the product. Interactive retail store displays can also use directional scent and audio to steer customers to your display. Touch screens and media players are a great way to let customers explore all of your product's uses, benefits, and options.
Interactive Retail Store Display Examples from Our Portfolio
Lyric Seed Merchandiser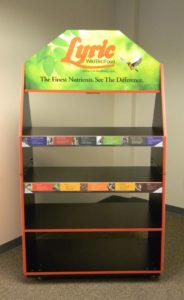 Lyric wanted to promote their high-end bird feed program and increase sales. With this custom retail display, they were able to dramatically increase their exposure and also provide a strong education resource to their customers. The vivid colors and pictures draw customer attention while the signs efficiently provide key information to educate customers about particular birds and their nutritional needs. This allows customers to make a well-informed purchase and increases the likelihood of repeat sales.
American Standard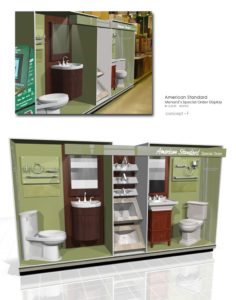 When choosing bathroom fixtures, customers struggle to get a sense of how the products will look in their home. Milford helped American Standard create a unique, interactive retail store display that effectively captured an at home atmosphere. Rather than looking at a wall of toilets and sinks, customers can step up to the displays and get an accurate picture of their size and style.
Serena by Lutron®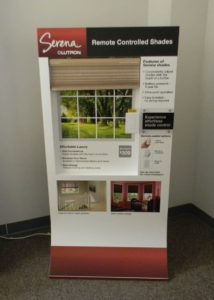 When The Home Depot needed an innovative display to promote the Serena Remote Control Shade product, Milford created an effective, freestanding display that was engaging, educational, and interactive. The display includes a working sample of the product for customers to try, key features and benefits of the product, and answers to FAQ so that customers can make an informed buying decision.
Choose Milford for Innovative Interactive Retail Store Displays
As a leading designer and manufacturer of custom retail displays and fixtures for over 30 years, Milford's team of skilled professionals can help you create interactive displays that will increase sales. For more information, call us today at 215-538-2778 or email us at sales@milfordei.com.