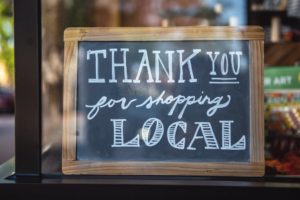 For brick-and-mortar stores, both large and small, competing with online retailers can seem like an uphill battle. But with the right promotional and sales ideas for retail stores, brick-and-mortar businesses can be just as successful as their online counterparts. One big advantage these stores have over the competition is the ability to connect with their customers and provide a consistent customer experience. Low prices aren't everything, as 86% of consumers are willing to pay more for a better customer experience. By incorporating new sales ideas for retail, you can cultivate a loyal customer base that will boost your bottom line.
5 Innovative Sales Ideas for Retail Stores
Tell a story with your displays – Great displays – both in the window and inside the store – are an art form that draw in customers and help advertise sales and products. Think outside the typical box of seasonal displays and transport your customers to a world of your creating. Are you a home goods retailer running a promotion on dishware? Don't just put dishes on a shelf: set up a table, complete with placemats, napkins and a centerpiece. Set the scene for your customers so that they can envision your products in their own home.
Utilize social media – Brick and mortar stores can – and should – have an online presence as well. Social media is a great way for small businesses to promote their products and services as well as expand their presence among local shoppers. Build your social media presence by getting customers to interact with your posts. You can do this by advertising pop-up sales, sharing new product arrivals, or holding contests.
Hold events – Bring people through the door by offering unique experiences they can't get anywhere else. Themed events or classes are a great way to expose customers to your products and services while giving them an outstanding customer experience. You can also incorporate sales with your events, such as having a "happy hour" and offering 10% off your purchase.
Have a customer loyalty program – Loyalty programs are a great way to encourage repeat business and expand your customer base, and they can be customized to meet the needs of any size business. In addition to special promotions and offers throughout the year, a loyalty program can be used to draw in customers during slow seasons. For example, are February and March typically low sales months? Allow loyalty customers to earn "points" on every purchase in the month of February, redeemable in the month of March.
Innovative retail displays – Customers like having information at the palm of their hand, especially when it comes to buying decisions. With our new Milford Smart Displays, you can engage shoppers' senses with audio, video, scent, and touch, while providing them with the information they need to make an informed purchase decision through infographics and signage. Our smart displays can also track customer dwell time, product touches, and sales ratios, helping you measure the effectiveness of marketing efforts.
If you're looking for new, innovative displays for your retail space, call the experts at Milford: 215-538-2778. As a leading designer and manufacturer of custom retail fixtures and displays for over 30 years, Milford is committed to quality, innovation, and 100% customer satisfaction.