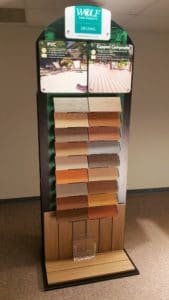 The key to effective branding is that every time a customer has an interaction with your brand – whether in your physical location or via email, social media, or your website – the experience evokes the same emotion. This is how you develop brand consistency and establish a loyal customer base. There are 6 elements that retailers combine to reinforce brand identity, and with point of purchase branding you can combine all of these elements into one dynamic display.
6 Elements of Effective Point of Purchase Branding
Logo – In many ways, your logo is the embodiment of your brand identity. As such, it should be incorporated throughout your store in a cohesive, logical manner. The key is neither to underwhelm or overwhelm your customers, while remaining true to your brand. Placing your logo in strategic locations – such as point of purchase displays – ensures the customer will see your logo and associate it with their shopping experience.
Signage – Good signage engages customers and draws them into interaction with your products. Whether you are using traditional or interactive displays, signage helps communicate your brand's personality to the customer. Your choice of fonts, colors, voice, and tone should all be in line with your identity.
Lighting – Lighting isn't only for helping customers see products;  it also helps contribute to their overall shopping experience. The style and intensity of lighting in your store helps set the atmosphere and mood, and the lighting of your point of purchase (POP) displays should have the same effect. If your store has dim lighting for a casual atmosphere, brightly lit POP displays will seem out of place.
Color scheme – The power of an effective color scheme is perhaps most noticeable among cell phone providers. When asked to match a color (red, pink, yellow, purple, etc.) to a cell phone provider, most Americans would be able to do it without much thought. That is because color has a psychological impact on customers, increasing brand recognition up to 80%. Incorporating your color scheme into your POP displays – whether subtly or overtly – is a great way to reinforce your brand.
Music – Numerous studies have found that the type of music being played in a store can influence the purchasing behavior of customers. On a smaller scale, music can be used to catch customers' attention and draw them to products they may have otherwise overlooked. With Milford's state-of-the-art Smart Displays, you can incorporate directional audio into your POP displays, increasing customer interaction with your products.
Scent – Smells can have a strong effect on mood, perception, and emotional reactions. Just observe customers choosing a candle, and you will see a wide range of reactions as they try out different scents. Stores can use smells to create a specific atmosphere or create brand association with specific scents.
For more information on how Milford can provide you with superior point of purchase branding, contact us today at 215-538-2778 or sales@milfordei.com.