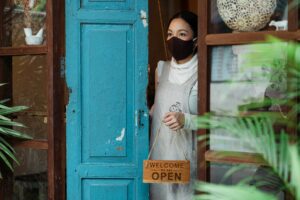 In the midst of this ongoing health crisis, employee and customer safety remain a top concern for businesses. Portable sneeze guards help businesses maintain safety and infection control protocols while continuing to provide the best possible customer service. Milford's selection of portable sneeze guards help you meet all state and federal safety guidelines to keep your business up and running.
What is a Portable Sneeze Guard?
Sneeze guards have been a standard feature at buffet style restaurants and salad bars for decades. First patented in 1959, the FDA mandated the use of food guards in the 1960s to block airborne particles that are expelled during sneezes, coughs and verbal communication from contaminating food. Portable sneeze guards are made from heavy-duty plastic (such as acrylic) and can be used in a variety of business locations, such as:
Pharmacies
Banks
Medical offices
Car dealerships
Hotels
Leasing offices
Employee desks
Cashier counters
Customer service kiosks
The Benefits of Portable Sneeze Guards
Made from durable plastic, portable sneeze guards can be easily – and frequently – cleaned without becoming damaged or breaking down. Sneeze guards can be quickly sanitized with disinfecting wipes or mild soap. They can also be swapped out for more intensive cleaning or between worker shifts to minimize cross-contamination.
Portable sneeze guards are an effective barrier to airborne particles without being obtrusive. They allow for clear communication between employees and customers at registers, service counters, etc., while still providing an extra level of protection. Sneeze guards also help encourage social distancing and can be placed between employees to reduce workplace transmission.
Milford's portable sneeze guards can be installed on any counter, desk or workspace. Easy to set-up and breakdown, they can be easily reconfigured or moved wherever you need them at a moment's notice to keep up with your business' changing needs.
Portable Sneeze Guards from Milford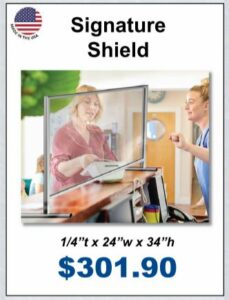 A perfect solution for medical receptionists, check-in counters and bank teller locations, our Signature Shield has a small opening at the bottom to allow papers to be passed through. With a sturdy frame and measuring 24"W x 34"H, this shield can be quickly mounted to any counter.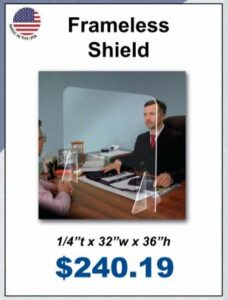 Our Frameless Shield offers a high degree of visibility as well as a larger pass-through, making it perfect for registers and various customer service configurations. Measuring 32"W x 36"H, this shield's self-supporting base makes it highly portable.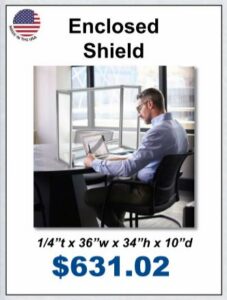 Milford's Enclosed Shield offers additional side protection from airborne particles. With a 10" depth, this shield can be used to form barriers between desks or shared workspaces.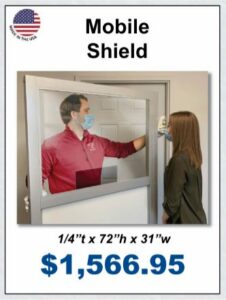 If you need to create a barrier and don't have an existing counter or workspace to mount to, our Mobile Shield allows you to put up a protective barrier at a moment's notice. Whether you need to create a temporary barrier within your business or need a portable barrier to bring to job sites, our Mobile Shield fits the bill. At 72"H and 31"W, it forms an effective barrier whether your employees are sitting or standing.
Need a custom portable sneeze guard? We can manufacture any shield you require. Contact Milford Enterprises today at (215) 538-2778 or sales@milfordei.com for more information.