At Milford Enterprises, Inc., we have turned our manufacturing abilities and expertise to producing safety products that help protect employees and customers from COVID-19. Made 100% in the USA at our onsite facility in Quakertown, Pennsylvania, these dependable products will help keep your business operating safely.
Acrylic Counter Guard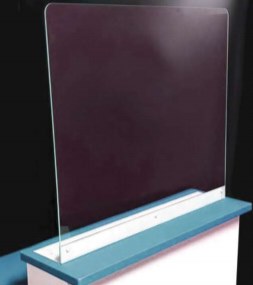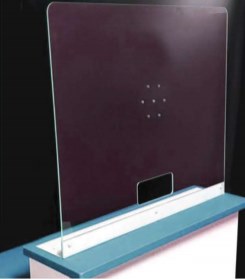 Help maintain social distance between your employees and customers with our acrylic counter guards. Available in two styles and sizes, these counter guards are made from ¼" acrylic and provide an extra layer of protection to business interactions. The solid barrier (left) is available in small (23"W x 27"H) and large (32"W x 27"H). We also have a counter guard with machined voice and pass-thru areas (right) in small and large sizes. These counter guards mount with screws or velcro (included) and feature a powder coated metal base and polished edges. For pricing and inquiries, you can download our order form here and email the completed form to sales@milfordei.com.
Sanitation Station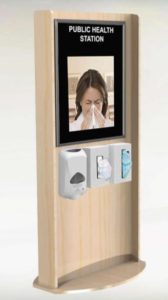 Our Sanitation Station makes it easy to offer hand sanitizer, gloves and tissues to employees and patrons. Available in four finishes (cherry, black, maple and white), these stations are both practical and attractive, complementing any business design. Measuring 32"W x 66 ¾"H x 22"D, our Sanitation Stations include the graphics and dispensers shown above, but gloves, tissues and hand sanitizer are not included. For pricing and more information, you can download the order form here.
Our counter guards and sanitation stations ship unassembled, but are quickly and easily assembled on site. Items ship FOB and payment is required prior to shipment. We accept wire transfer, Visa, Mastercard and American Express (with an additional 4% administrative fee for credit card charges).
Single-Use Full Face Shield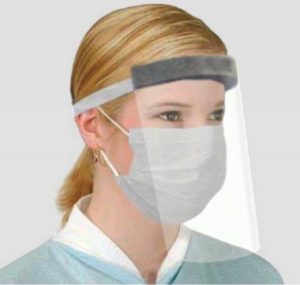 At Milford, we are committed to helping our frontline healthcare workers stay safe through this pandemic. That is why our single-use full face shields are currently only available to healthcare institutions. The visor is made from .005 clear acetate and measures 11 ½" wide x 9 ½", with a comfortable elastic band that holds the face shield in place. The 1 ¼" soft foam front allows the shield to be used with a mask and eyeglasses. These full face shields are one size fits all, non-sterile, and have a no-fog coating that provides a crystal clear view. For availability and questions, you can contact us via phone (215-538-2778) or email: sales@milfordei.com
Please contact us with any questions about ordering and shipping: 215-538-2778.