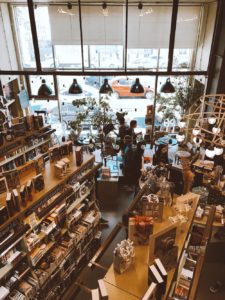 Independent bookstores have been steadily making a comeback, pushing back against big chains and online retailers. This is due to several factors, such as the customers' desire for a shopping experience and the intimate, personalized service an independent bookstore can provide. Avid readers enjoy the atmosphere of a bookstore, from the smell of books to being able to grab a chair and browse a book before buying.
Rather than coming to purchase a particular book, customers often enter a bookstore to discover a book. "Book discovery" is an industry buzzword for helping readers find their next book. Great bookstore display fixtures help readers discover new books and authors they'll love, and can turn them into faithful customers.
4 Tips for Great Bookstore Display Fixtures
1. Make the books the star
While this may seem obvious, it takes more than putting books on a fixture to make them the star. It is easy for bookstore display fixtures to become cluttered if you focus on how much a fixture can hold. Instead, approach your book display like a museum curator. Rather than rows of monotonous spines, turn the books so that the covers are on display. Let the beautiful cover art capture customers attention and draw them in. A custom bookstore display fixture can help you incorporate beauty and practicality by allowing you to display books in multiple ways so that you don't have to sacrifice precious shelf space.
2. Displays should be easily accessible
Bookstore display fixtures should invite customers to pick up and interact with books. If a fixture is too tall, too low, or too deep, customers are more likely to keep walking rather than stop and browse. Round displays attract customers from all angles and can also help steer them through a non-traditional traffic flow. Utilizing shorter displays in strategic locations allows customers to view more of the store, drawing them further in.
3. Don't forget endcaps
A seasoned retailer can tell you that endcap displays are a hot selling point. Since they are limited in size, these fixtures should have a clear focus to keep them from seeming cluttered. A well-designed endcap makes the products stand-out without clashing with the overall store design.
4. Don't be afraid of subcategories
When it comes to separating genres in bookstores, fiction books often aren't subdivided beyond mystery, romance, young adult, and sci-fi/fantasy. But there are dozens of subgenres in fiction, such as historical, literary, speculative, family saga, and so on. Using bookstore display fixtures to highlight these subgenres makes it easier for readers to find the stories they are interested in and discover new authors.
If you're looking for high-quality, custom bookstore display fixtures, call the experts at Milford today – 215-538-2778 – or email us at sales@milfordei.com. Our all-in-one manufacturing facility provides our clients with one stop shopping for quality construction, value engineering, competitive pricing, and unmatched customer service.