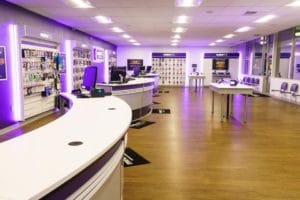 Cell phone use in America continues to skyrocket, and competition in the market is fierce, with cell service providers in a constant battle to make their brand #1. In 2010, Metro by T-Mobile made history by becoming the first carrier in the USA to offer service on an LTE network with an LTE handset. In order to capitalize on this momentum, they needed to update their thousands of retail stores with a consistent store layout design that reflected a professional, effective and eye catching design that would facilitate a positive and interactive customer experience.
Metro by T-Mobile turned to Milford Enterprises Inc. for their solution. With over 20 years of experience successfully working with many major wireless providers, MEI had the vision to lead MetroPCS to an image that would position them ahead of the competition. The new design was strategically unveiled at the annual wireless convention in order to get feedback from the industry, which led to some minor refinements. Once the design was finalized, it was mass-produced and offered to MetroPCS retailers throughout the entire country. Stores sales were measured month over month from the previous year after retro-fitting with the new fixture design, and the results were impressive:
20%-39% increase in gross sales

25% increase in return customers

42% increase in accessory sales

60% reduction in employee turnover
In the last nine years Metro by T-Mobile has continued to grow: merging with T-Mobile as simply "Metro," they now serve 18 million customers and were just named the Best Discount Carrier of 2019.
A Store Layout Design for Every Retail Space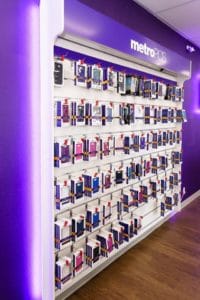 One of the tricks to developing Metro by T-Mobile's new store layout design was that they didn't have a standard store size. Their stores could range from 500-1,000 square feet, plus mall kiosks of various sizes. Milford designed a variety of coordinated pieces that could be customized to a particular store while still maintaining a cohesive look. Color, lighting, and signage help marry all the pieces together: even something as simple as a purple molding with three white stripes around the top of each counter reinforces the branding.
Milford also made it easy for franchise owners to furnish their stores by creating a design catalog, key features of which include:
Overviews of each fixture with its features and dimensions
Sample store layouts

A full kiosk catalog to accommodate any mall regulations

A store design form for easy communication

For Game-Changing Store Layout Design, Call Milford Enterprises Inc.
As a leading designer and manufacturer
 of custom retail displays, fixtures, kiosks, and environments, Milford's products help enhance your company's exposure and boost sales. MEI customers know they can rely on our innovative design, value engineering, quality construction, and outstanding customer service. If your store layout design needs an update or full overall, call Milford today at 215-538-2778.