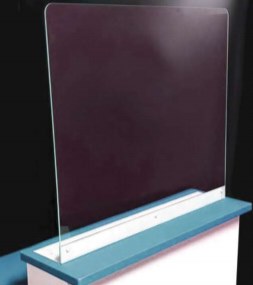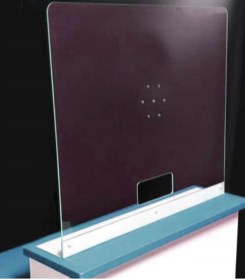 For years acrylic counter shields have been a common feature in banks and doctors' offices, creating a barrier between tellers, receptionists and customers. Now these counter shields have become an important component for nearly every business, as employers seek to protect the health and safety of both employees and patrons. At Milford Enterprises, we are helping companies navigate COVID-19 regulations and protocols with products such as our acrylic counter shields and sanitation stations.
3 Benefits of Acrylic Counter Shields from Milford
Create a protective barrier between employees and customers – Acrylic counter shields help prevent the spread of viruses through airborne contaminants, such as sneezing, droplets and other particulates. Counter shields help protect both employees and customers from infectious illnesses such as COVID-19. They are easy to sanitize and can easily be changed between shifts to maintain a healthy, sterile environment.
Promote social distancing – Acrylic counter shields create a physical barrier between people, making it easier to maintain social distancing. This helps put both customers and employees at ease and demonstrates a business' commitment to protecting everyone's health and safety. Customers are more likely to frequent a business that makes them feel safe and shows they are taking proactive measures to follow all CDC guidelines.
Easy to assemble and install – Our acrylic counter shields ship unassembled, but they can quickly be assembled on site. Installation is easy, as the counter shields can be mounted with either velcro (to easily change shields between shifts or for regular cleanings) or screws (for added durability and stability). Featuring a powder coated metal base and polished edges, these acrylic counter shields are perfect for any point-of-sale countertop (such as cash registers and customer service desks) or high-traffic area (such as bank counters, reception desks, coffee shops and take-out pick-up locations).
Keep Your Business Safe with Acrylic Counter Shields from Milford Enterprises
Our acrylic counter shields are available in two convenient sizes: small (23"W x 27"H) and large (32"W x 27"H). They are also available in two styles – as a solid barrier, or with machined voice and pass-thru areas. Made from ¼" acrylic, these durable counter shields can withstand repeated cleanings. For pricing and inquiries, you can download our order form here and email the completed form to sales@milfordei.com. You can also call us with any questions at (215) 538-2778.