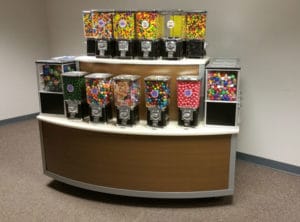 When opening a candy store, there are certain fixtures you can't go without. Candy store fixtures should boost sales, improve the customer experience, and increase efficiency. Here at Milford Enterprises, Inc., we know the importance of custom fixtures that meet your store's exact needs and stay within budget.
The 5 Essential Candy Store Fixtures
Seasonal and promotional displays – Typically situated near the entrance, these displays help peak customer interest and encourage them to interact with products. These displays will see a lot of use during Easter, Halloween, and Christmas (the biggest candy holidays), and need to be durable and flexible enough to withstand heavy traffic and a variety of products. They can also be used throughout the year to promote specific products – such as saltwater taffy in the summer – or to display sale items.
Point of purchase displays – Scattering these displays throughout your store helps create "brakes" that slow down customers, drawing attention to otherwise overlooked products and creating an atmosphere that encourages browsing. The more time a customer spends inside a store, the more they typically purchase. POP displays also serve as an extra salesperson, providing key product information to encourage a sale. With Milford's new Smart Displays, you can gauge customer interaction or the effectiveness of a promotion, and receive more accurate inventory information.
A standout sales counter – The sales counter is more than just a place where purchases are made. It is where the majority of employee-customer interaction takes place, making it one of the most influential locations in the entire store. A good counter design lets your employees engage with customers effectively while providing them with a fast, easy checkout.
Wall fixtures – Slatwalls and pegboards are some of the most effective candy store fixtures you can buy. Pegboards allow you to adjust displays easily to accommodate changing inventory and are perfect for displaying a variety of merchandise types. Slatwalls have indentations to hold bins, containers, shelves, or other display items. Baskets, barrels, and metal bins are perfect for items that are small, loose and sold by weight – which is the majority of candy items. Or you can go for a retro candy store look with clear acrylic containers and bins that show off the candies' bright colors and fun designs. At Milford, we incorporate signage, lighting, and brand colors into wall fixtures to create a cohesive look throughout your store and boost brand recognition.
Table top displays – From old-fashioned jars and candy machines to glass fish bowls and metal bins, countertop displays corral miscellaneous items and encourage impulse buys. Using low table displays in the center of your store also expands customer sightlines, maximizing the visual appeal of your store. Candy purchases are largely prompted by sight and nostalgia: people rarely come with a specific list, instead deciding on the majority of their purchases in-store. Having your products easily visible will increase your sales.
If you're in need of durable, effective candy store fixtures, contact the experts at Milford today: 215-538-2778 or sales@milfordei.com.