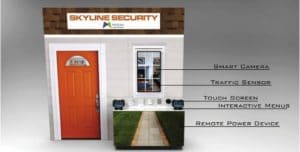 As we discussed in a recent blog, brick-and-mortar stores are in need of creative solutions in order to compete with online retailers. Innovative point of purchase displays can be more productive than advertising and promotional expenditures and provide a greater degree of flexibility to keep up with the ever-changing expectations and shopping patterns of consumers.
Innovative Point of Purchase Displays for the Digital Age
The average American spends over 10 hours a day consuming digital media. In order to reach today's consumers, stores have to change how they present products and interact with customers. When going to a brick-and-mortar store, customers want a shopping experience that they can't get online, but they still want the speed and ease of online shopping. Customers don't want to have to track down an employee to ask questions about a product or find out where a product is located. That is why store apps are growing in popularity among large chain retailers: customers can look up a product's location inside the store, check if a product is sold out, and even retrieve coupons all from their phone. While apps may not be feasible for smaller retailers, all stores can enjoy the benefits of digital point of purchase advertising.
All of Milford's custom, state-of-the-art displays are now engineered with the capacity to deliver retail intelligence and a unique customer experience. Each Milford Smart Display is built with strategic sensor locations, pre-wired conduits, interfaces and strategic central storage for electronics. Our displays can accommodate traffic and product sensors, cameras, digital screens, media players, directional audio and scent, and so much more. When a client wants to utilize the benefits of a Milford Smart Display, it is a very simple and quick "plug and play" solution. These benefits include:
Store traffic, closing ratios, and data
Customer dwell time, product touches, and sales ratios
The ability to measure the effectiveness of marketing efforts
Interactive Displays that deliver a customer experience
Remote ability to update and manage content
Innovative point of purchase displays help produce a more positive, engaging environment for shoppers by engaging their senses with audio, video, scent, and touch, while providing them with the information they need to make an informed purchase decision. Smart displays also help retailers cut costs by providing them with accurate sales information so they can optimize marketing efforts and better control inventory.
For Innovative Point of Purchase Solutions, call Milford
If you need state-of-the-art, digital point of purchase displays, contact the experts at Milford today at 215-538-2778 or sales@milfordei.com. As a leading designer and manufacturer of custom retail fixtures and displays for over 30 years, Milford is committed to quality, innovation, and 100% customer satisfaction.