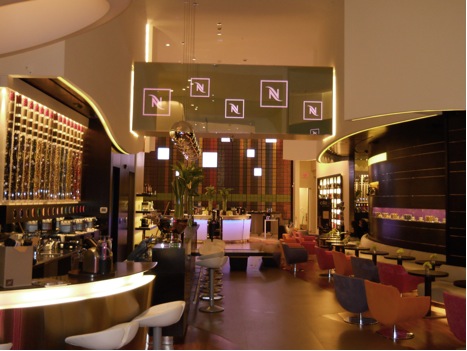 When it comes to store layout and design, it is important to consider how and where you will use displays. Retail fixtures and displays should effectively market products, enhance customer experience, and help you meet your visual merchandising goals. Here are 7 ways to use displays to your advantage from Milford, an experienced retail fixture manufacturer.
Encourage customers to interact with your displays – Being able to touch, feel, and try out your products may influence a customer's decision of whether or not to make a purchase. Customers don't want to guess whether a product will work for them, they want to be certain. Picture a cell phone retail display<: they have samples of the products out so customers can compare and see what model best suits their needs. At Milford, we help you design and create retail displays that encourage customer interaction and enhance their shopping experience. If customers can test your products they will likely have a positive reaction to both your product and your store, making them more likely to return.
Establish clearly defined areas – If you visit a sporting goods store, you will see specific sections laid out for baseball, soccer, golf, and so on. This is because shoppers don't want to wander aimlessly until they find what they are looking. We help you design a layout that makes logical sense, making it easier for customers to navigate. By anchoring the various sections of your store with a retail display of new or popular products, we can further streamline the shopping process while directing customers to higher priced items.
Use retail fixtures that are approachable and accommodating – Displays should attract customers, drawing them in and making them feel comfortable. We help you think outside the traditional retail fixture box. Rather than a traditional counter for jewelry, consider a round case, with glass on all sides, and reaching waist-high. This allows employees to be side-by-side with customers, creating a more relaxed and friendly atmosphere. Quality human interaction is one of the keys to good sales. Displays should also be ADA compliant, offering a quality shopping experience to all your customers.
Keep your branding continuous throughout the store – We emphasize branding often because it is one of the best visual merchandising techniques. Effective branding helps customers understand exactly what your brand is about. It also helps them associate your company with a pleasant shopping experience and quality products. This positive association will turn them into a repeat customer. We help you achieve effective branding with custom signs, lighting, and retail fixtures.
Grab their attention as they walk through the door – The retail display closest to the door should highlight your newest, most expensive, and most popular items. We can create a retail fixture design that is flexible and can accommodate the needs of rotating stock. We can also add custom lighting to draw customers' eyes and display your products to their best advantage.
Keep your displays unique – You want your retail displays to stand out, not blend into the background. Customers expect to see coffee mugs displayed alongside coffee makers, but you could try a more intriguing display! Choose items that will surprise customers and make them come in for a closer look. Milford's experts help you come up with retail fixture solutions that will delight your customers.
Add words – but not too many!

– Customers want information, not a novel. With a few well-placed, specifically worded signs, you can inform customers about the benefits and features of a certain product. These signs should be short and easy to read. Handwritten signs may be fine for shops that specialize in handmade items, but they can look out of place in chain or high-end stores. Be sure that the signs are in a legible font—customers want to be able to read it at a glance. If signage is important to you, Milford can incorporate lighting into your retail fixture design so that signs stand out and are easier to read.
Milford Enterprises: Your Trusted Retail Fixture Manufacturer
"Working with Milford was a seamless process and yielded unmatched results. I highly recommend them for any visual merchandising needs." – American Standard
For over 30 years, Milford has been helping companies create custom retail displays that improve the customer experience. We are a one-stop shop for all your retail fixture and display needs: from design to manufacturing to delivery, Milford does it all. We guarantee to deliver a quality product that exactly fits your needs. Call us today at 215-538-2778 or email us at sales@milfordei.com and find out what Milford can do for you.