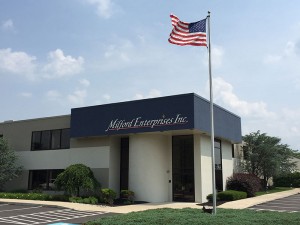 Since 1983, Milford Enterprises, Inc. has been a leading designer and manufacturer of custom retail displays, fixtures, and environments. We proudly manufacture in the USA, and our expansive facility helps provide our clients with quality construction, innovative design, value engineering, competitive pricing and unbeatable customer service. Our custom convention displays will enhance your company's exposure and create a lasting impression.
When you choose Milford Enterprises as your custom display manufacturer, you get a company committed to:
100% customer satisfaction
Long-term relationships with our clients
Environmentally conscious manufacturing processes, which include in-house recycling and aggressive VOC systems
Unmatched performance and attention to detail
We Work With You From Start to Finish
Each client has a unique set of challenges, and during our first meeting we will brainstorm ideas with you and formulate a plan unique to your situation. Our designers then create multiple models for you to choose from, offering both form and function in a variety of configurations. As a custom display manufacturer, we enjoy a collaborative relationship with our clients, listening closely to your wants and needs to find a design that is perfect for you.
Once the design has been chosen, it is engineered and manufactured at our in-house, state-of-the-art facility. All designs are subjected to value engineering inspections to improve function and/or lower cost.
Lastly, our dedicated shipping team coordinates the delivery of your product. Deliveries are arranged in a timely manner, with options for installation services, drop shipments, and nationwide shipping.
American Standard – Creating an Innovative Design – A Case Study
Custom displays involve much more than simply making a product look good; an effective display empowers customers to learn about a product while promoting a powerful branding message. A long time client of Milford's, American Standard, requested a display for their new Champion line of toilets.
The Champion line was developed to improve water conservation and minimize clogs. American Standard wanted an interactive way to allow customers to visualize the difference in water usage and flush capacity in their new design.
Milford created the Champion Flushing Display: a retail based, hygienic, UL-approved, flush demonstration display. Housing a self-contained, fully integrated water source, the unit also includes reusable "flushable media" that gives customers the chance to test the toilet's capabilities. The Champion Flushing Display was designed to operate as a mobile demonstration unit that could be brought to trade shows, or function as a standalone retail display.
Trade Show Displays from an Experienced Custom Display Manufacturer
Milford was asked to design and build a display for Omnia Industries, Inc. that was part of KBIS 2017. The Kitchen & Bath Industry Show is the world's largest international trade event dedicated to the kitchen and bath industry, showcasing the latest products, trends, and technologies. This event features the largest array of product displays and demonstrations, as well as the most innovative design ideas to keep up with an ever-changing market. KBIS attracts key decision makers from national and international markets, making it important to produce a display that both captures attention and shows off the company's product effectively.
Our client, Omnia Industries, Inc., challenged us to create a design within a 20' x 20' area that would showcase their products in a high-end and appealing fashion. We came up with a display that provided multiple areas for presentation and storage, along with a clear branding image throughout the area. Below is a photo of the finished product:

As you can see, the final design offers plenty of open space, as crowded booths are unattractive and often passed over. Mounting the products on a bright color draws in the eye, while white walls offer a clean, modern appearance. The inclusion of space for marketing materials such as poster frames, allowed the client to further promote their brand. The overall effect is a bright, inviting space that shows off products in their best light.
Contact Milford Enterprises: Custom Display Manufacturer for Over 30 Years
A good display creates a strong brand presence and clearly communicates your product's features and benefits. With over thirty years of experience in visual merchandising, our innovative displays will elevate your branding to a whole new level. Custom displays from Milford Enterprises will help you attract the buyers you want.
Why should you choose Milford Enterprises, Inc.?
Effective displays
Innovative solutions
Unique designs
Commitment to customer satisfaction
Cutting edge display and retail design teams based in Pennsylvania
In-house, warehousing, shipping, and installation capabilities
If you are looking for custom point of purchase displays, retail fixtures, or retail environments, contact us today at sales@milfordei.com. Our team of dedicated professionals is eager to help solve your design challenges and create a custom, eye-catching display that showcases your product and enhances your brand presence.