If you're in need of successful electronic showroom design ideas, the experts at Milford are here to help. Find inspiration from our portfolio, all designed, engineered, and manufactured in-house at our state-of-the-art facilities.
Metro by T-Mobile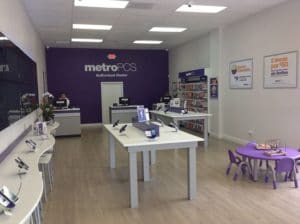 In 2010, Metro by T-Mobile was looking to create a consistent retail design for their 8000+ stores throughout the country. They were interested in an upscale, professional, open-concept sales environment that would facilitate positive and interactive customer experiences. With over 20 years of experience working with major wireless providers, Milford had the experience and vision to help put Metro by T-Mobile ahead of the competition.
Milford developed a new design with consistent branding and merchandising, providing turn-key solutions from design to production to installation. The result was aesthetically pleasing yet functional store layouts that encourage customers to interact with MetroPCS products. Milford designed a variety of fixtures, displays, counters, and accessories, so that every Metro by T-Mobile store can be on-brand no matter their size or layout. As stores adopted the new fixture design, they achieved a 20%-39% increase in gross sales, 42% increase in accessory sales, 25% increase in return customers, and a 60% reduction in employee turnover.
LifeLine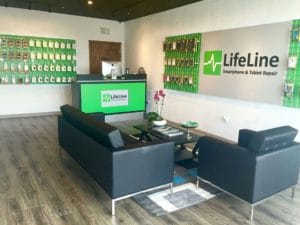 LifeLine was looking for a coherent brand design for their mobile phone and device repair service. The goal was to develop their brand design and fixture package so that the business could become a franchise opportunity. Milford's design team started with brand recognition, ensuring the signage and color scheme were woven into the fixtures to form a cohesive, unified look that would be instantly recognizable.
Next, our designers focused on the fixtures. Milford used wall mounted displays and thin kiosks to keep the store looking clean and to allow customers to view products easily. The wall displays promote their mobile accessory sales without taking up valuable floor space. We also designed a premium fixture that highlighted Apple products and larger format computers to promote their "Premium" LifeLine services.
These fixtures offer a welcoming layout and instant brand recognition, and can be used in any size retail environment.
Lutron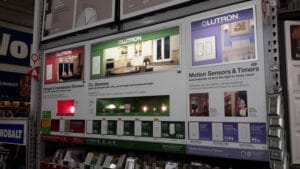 The Lutron Electronics in-line interactive displays offered a unique challenge in that Milford was asked to refine the displays to improve cost and performance without compromising the integrity of the existing design.
By using alternative materials and re-engineering the fastening system, Milford was able to replace the heavy casework with a lighter, easier-to-handle design. The new design resulted in a 50% decrease in display weight, dramatically reducing shipping costs. Milford also used cutting-edge LED technology for the new displays, increasing the intensity and life expectancy of the lighting. Through value engineering, Milford was able to give Lutron a 10% decrease in display unit cost, an increase in overall aesthetics, and a decrease in installation time and shipping damage.
For more electronic showroom design ideas, call Milford today at 215-538-2778!