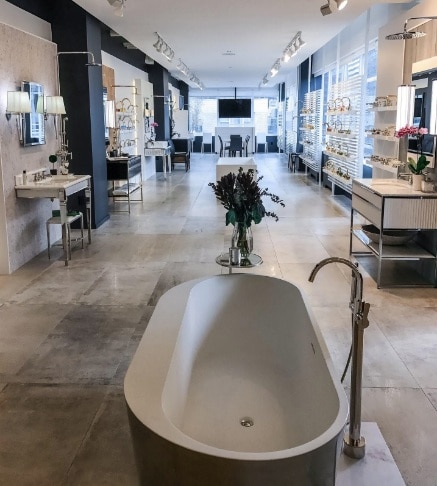 The retail decor you choose tells customers a lot about your establishment, influencing their perceptions and impacting their shopping experience. With custom retail displays, you can create a cohesive look in your store that enhances the customer experience, boosts sales, and reinforces your brand. Here are 5 tips from the experts at Milford on how to get the most from your custom retail displays:
Give them a vision – Items look very different sitting on a shelf than they do in the home or workplace. Use displays to help customers visualize your products outside the store or to highlight uses that may not be readily apparent. Clothing stores use mannequins to show customers pieces that they may not have matched up on their own. By creating a showroom feel, you allow customers to become better acquainted with your products.
Make it easy to find and buy products – Good retail decor provides clear sightlines and keeps products within easy reach. Lighting is also a great way to both grab customer attention and display items in a unique, eye-catching way, adding another dimension to your custom retail displays.
Highlight specific merchandise – Point of purchase displays are a great way to increase sales of a particular product. Whether seasonal, sale, or high-end items, a well-crafted, informative point of purchase design will show customers the value and appeal of the item.
Know your brand – A brand should have a specific feel and color scheme that is incorporated into their retail decor, displays and signage. Good branding is often subtle, but that does not minimize its effectiveness. Your color and decor scheme should be a natural extension of your brand. Think of the major cellular companies: each has associated itself with a specific color. This color appears in their stores and ads, and on their spokespeople. Customers immediately associate that color with their company, yet the company never had to announce, "We're the yellow company" or "We're the red company."
Displays should be consistent, not static – If merchandise is always in the same place, customers will zero in on what they want and overlook all other items. By rotating displays, you can draw customers' attention to items they might not have bought otherwise. Custom retail displays allow you to change things up without a major overhaul.
Custom Retail Displays from Milford Enterprises Inc.
If you are looking for custom retail displays that will help strengthen your branding and increase sales, call the experts at Milford: 215-538-2778 or email us at sales@milfordei.com. Our design team will help you create retail decor that draws customers in and encourages them to become loyal patrons.