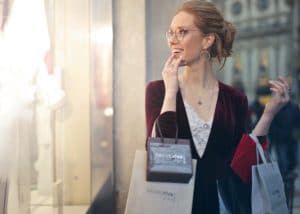 In the battle between brick-and-mortar stores and online retailers, department store fixtures are more important than ever. Done correctly, department store fixtures help create an immersive, interactive customer experience that drives sales and builds a loyal customer base. Done incorrectly, however, those fixtures can leave your store feeling bland or disorganized, leading to dissatisfied or frustrated consumers.
5 Common Department Store Fixture Mistakes
The fixture is too busy or distracting – Some retailers add all the bells and whistles to their fixtures in hopes of attracting customers' attention. However, shoppers tend to ignore or avoid overly complex displays because they find them overwhelming. A busy display can also quickly become cluttered and make your whole store appear disorganized, leading to frustrated customers.
The fixture is too bland – A good department store fixture is all about balance. Just like a display can be too busy, it can also be too boring. One-dimensional displays that lack depth, height, and color make your products fade into the background and give your store a dull appearance. Department store fixtures should provide variety and visual interest to your product displays.
The fixture lacks versatility – Inventory is a revolving door. Whether it's seasonal and holiday changes or simply adding new product lines, your fixtures need to accommodate a variety of goods. For key displays, choose department store fixtures with flexible designs that allow you to reinvent and reconfigure them constantly for fresh, new looks.
The fixture doesn't "sell" your products – Some products sell themselves, but others need a little help. Put yourself in the customer's shoes: if you were going to buy this product, what information would you like to see? Would you like a brief list of product details, benefits, or uses? Perhaps you would like to interact with a sample or see a video of the product in action?

Point-of-purchase displays

help customers make informed buying decisions and create a pleasant, engaging shopping experience.
The fixture doesn't encourage interaction – If a customer interacts with a product, they are much more likely to follow through with a purchase. Interaction comes in various forms, depending on the type of product. For example, buying clothes involves trying on items in a dressing room while picking out a decking material involves handling samples and comparing product information. Your department store fixtures should encourage and make it easy for customers to interact with your products.
Custom Department Store Fixtures From Milford
As a leading designer and manufacturer of custom retail fixtures and displays for over 30 years, Milford's team of experts can provide you with custom department store fixtures for dynamic, register-ringing retail environments. For more information about our displays and fixtures, contact us today at 215-538-2778 or sales@milfordei.com.