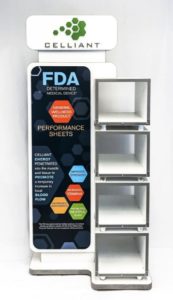 Custom point of purchase displays are a great way to improve sales of your products and boost your company's image. An experienced custom display manufacturer can develop and produce a standout display that meets the unique needs of your product while balancing other factors that affect design. These include:
Customer demographics
Features that need to be highlighted
Marketing strategies of the manufacturer and/or retailer
Space availability in the store
Theme of the retail environment where the display will be used
Cost requirements
Milford's point of purchase promotion examples showcase our ability to design and manufacture unique, eye-catching displays that drive sales. These promotional tools serve as an extra salesperson, attracting customers and providing them with the information they need to make a purchase. Here are some point of purchase promotion examples to demonstrate the versatility of these displays.
Serena Remote Controlled Shades by Lutron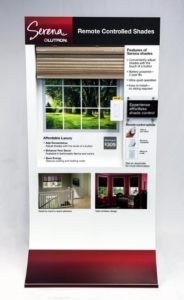 Our client needed an effective, freestanding point of purchase display to promote their Serena Remote Control Shade product. They wanted the display to be engaging, educational and interactive. Our designers developed a display that allowed customers to test the product and see it function in person. The display also highlights the top features and benefits of the product in a sleek, easy-to-use format.
Lutron Electronics at Lowes and Home Depot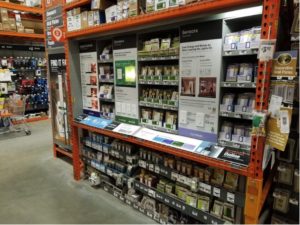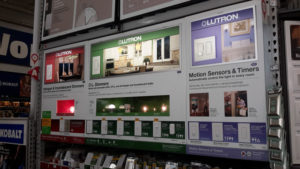 Milford was tasked with refining the Lutron Electronics in-line interactive displays to lower costs and improve performance without compromising the integrity of the existing design. We were able to add value to their current displays – thus reducing shipping, production, and installation costs – by re-engineering the fastening system, using alternative materials, and incorporating cutting-edge LED technology. The new, lighter, easier-to-handle design increased the intensity and life expectancy of the lighting. Shipping costs were greatly reduced as the new design came in at 50% of the original weight. There was also a 10% decrease in cost per unit as well as a reduction in shipping damages and installation time.
Decking from Wolf Home Products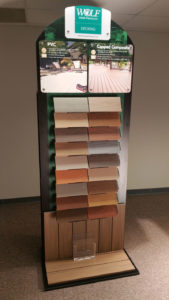 Wolf Home Products came to us looking for a point of purchase display for their line of durable decking products. Milford delivered a display that combines efficient product sampling, impactful life-style graphics, and an innovative inventory control feature for the take-home samples.
Milford Enterprises Inc: Delivering Custom Displays for Over 30 Years
If these point of purchase promotion examples have inspired you, call Milford today at 215-538-2778 or email us at sales@milfordei.com to request a unique displayof your own. Our experienced sales and manufacturing teams will design, build, and deliver your display with a commitment to excellence and customer satisfaction.