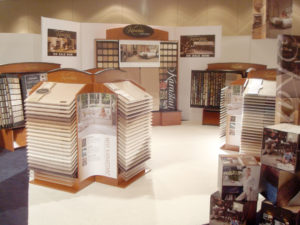 At Milford Enterprises, we're committed to producing custom merchandising displays with unmatched performance and attention to detail. For almost forty years we have been a leading designer and manufacturer of custom retail displays, fixtures, and environments. If you need custom merchandising displays to boost sales or strengthen your brand, the experts at Milford are here to help.
Custom Merchandising Displays, from Start to Finish
At Milford, we know that well-crafted custom merchandising displays can create a retail environment that increases traffic and boost sales. Our designs are always crafted to meet your marketing goals, whether it's enhancing your brand, broadening your exposure, or providing innovative solutions. Our four-step process is:
Devise – Our displays start with a meeting between our account managers and our clients to discuss their unique challenges and needs. After brainstorming concepts and formulating a plan, we assign sales team research, write up a design request, and define deadlines.
Design – Next, our designers use 3D modeling software to create a variety of model options and configurations that display both form and function, giving clients a variety of designs to choose from. We are committed to 100% customer satisfaction, so we ensure our designs meet all our clients needs.
Develop – After a design is approved, we engineer and manufacture it in-house. Both our facilities and equipment are state-of-the-art, ensuring your custom merchandising display will be built to the highest quality standards and 100% made in the USA.
Deliver – We make sure your displays get to you safely and in a timely manner. With drop shipments, nationwide shipping, and installation services, our dedicated shipping team can meet all your delivery needs.
By handling every phase of the project in-house and utilizing value engineering methods, we can maximize material efficiency and minimize labor expense. We are also environmentally conscious and strive to minimize our carbon footprint. Initiatives include the utilization of in-house material recycle programs, environmentally friendly adhesives, and aggressive VOC systems whenever possible.
Our capabilities include:
Prototyping
Print and décor
Fixture design
Value engineering
Wood and metal fixture production
Metal and acrylic fabrication
Inventory storage and management
Delivery and installation
Milford Enterprises: the Industry Leader in Custom Merchandising Displays
When it comes to marketing, it's important to put your best foot forward. Custom merchandising displays help you stand out from the crowd and exceed customer expectations. With our innovative designs, quality construction, competitive pricing and outstanding customer service, Milford Enterprises is the partner you've been looking for. Contact us today at 215-538-2778 or sales@milfordei.com.