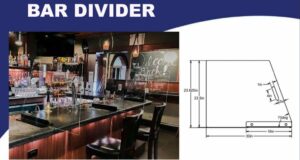 One of the main ingredients for a successful restaurant has always been an enjoyable dining experience. As indoor dining restrictions fluctuate across the country, restaurant owners are struggling to find solutions that keep diners safe without creating an uncomfortable dining atmosphere. At Milford Enterprises, we have created a variety of plastic table dividers for restaurants that help them meet coronavirus guidelines while still helping to facilitate a pleasant indoor dining experience.
The Benefits of Plastic Table Dividers
Plastic table dividers help promote social distancing and prevent respiratory droplets from spreading, thereby reducing the transmission of viruses. These protective barriers are also easy to clean and disinfect, lightweight, durable and quick to assemble. And the clear dividers allow customers to still interact with each other while protecting them from airborne droplets.
Our Plastic Dividers for Restaurants and Bars
Our custom bar divider is easy to install and designed to extend past the bar top to create a barrier between seated patrons. The steel base provides a secure anchor for the divider and is available in a variety of colors to complement your bar top. The hand grip on the back of the divider allows for easy removal to deep clean the divider or replace it inbetween customers. You can request more information (including bulk pricing) here.
We have a variety of plastic shields that can be used in various dining situations. Our Signature Shield is perfect for hostess and takeout stations, allowing for a safe checkout experience. We also have a Circular Shield that measures 17.75" w x 24" h and 36" in diameter that is perfect for high tops and round tables. Our Frameless Shield style is perfect for any size table because it provides a clear, unobstructed view. The shield is self-supporting and doesn't have to be mounted to the table so it can easily be removed for cleaning or rearranged to accommodate various dining scenarios. 
All of our shields meet health and safety guidelines which specify plastic table divides should extend upward from the table surface 24-36 inches in order to form an effective barrier. We can also create custom shields to meet your business' unique needs. 
Dependable Plastic Shields from Milford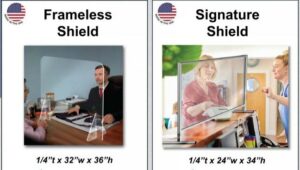 At Milford Enterprises, we are using our decades of manufacturing experience to produce safety products that help protect employees and customers during this pandemic. From plastic table dividers and cashier shields to sanitation stations and portable shields, we have the products you need to keep your business running safely. All of our products are 100% Made in the USA at our Quakertown, Pennsylvania facility and built to last. For more information on our products, contact us today at sales@milfordei.com or (215) 538-2778.