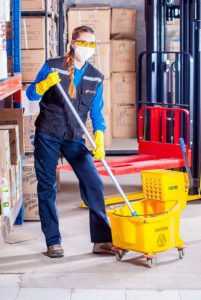 As stores and businesses throughout the country reopen, maintaining good retail hygiene will ensure a safe environment for your employees and customers. Stores are having to rethink their layouts to comply with reopening guidelines – such as installing counter shields at registers and creating uni-directional aisles to allow for social distancing. At Milford Enterprises, Inc., we have some tips and products to help your business practice good retail hygiene.
How to Promote Good Retail Hygiene
Make it easy to clean high-traffic and high-touch areas – High-contact areas such as registers, railings, counters and certain displays need to be frequently sanitized throughout the day. At Milford, we can create custom displays that are easy to access or disassemble for frequent cleaning. We also offer a variety of durable display materials that can withstand constant sanitizing without warping or cracking, ensuring your displays will maintain their appeal.
Maintain good airflow – Evidence increasingly shows that the risk of COVID-19 is highest in poorly ventilated spaces. Having proper ventilation is key to keeping your customers and employees healthy. Allow for good airflow and ventilation by not blocking windows, doors and vents with fixtures. Ensure there is plenty of room for air to circulate freely. If you need new fixtures to improve ventilation, our design team is here to help.
Offer hand sanitizer upon entering the store – Promote good hygiene among customers by offering hand sanitizer and gloves as they enter the store. Our Sanitation Stations can fit easily into any entrance or foyer and come equipped to hold hand sanitizer, gloves and tissues, as well as infographics about social distancing and other safety protocols. Available in four finishes (cherry, black, maple and white), these stations complement any store design.
Rethink your store's flow pattern – To prevent clusters of shoppers and promote social distancing, it may be necessary to redesign your store's layout. Uni-directional aisles and loop layouts can help to create effective distance between customers. Strategically placed fixtures can also help guide the flow of customers through your store or act as barriers.
Invest in counter guards and other barriers to separate employees and customers – Acrylic counter shields are a must at registers, putting a protective barrier between cashiers and customers. Our counter shields are easy to assemble and can withstand rigorous cleaning without staining, cracking or warping. We also offer several other protective shields, from enclosed shields for office desks to signature shields for checkouts and counters. We can also build custom shields for your exact needs and specifications.
For help improving your business' retail hygiene, contact Milford today at 215-538-2778 or email sales@milfordei.com