When you need high end store fixtures, look no further than the experts at Milford Enterprises, Inc. For over three decades we have been a leading designer and manufacturer of custom retail displays and fixtures. Whether you need high end store fixtures for clothing boutiques, bookstores, or even hardware stores, Milford's innovative designs, quality construction, competitive pricing, and outstanding customer service will help broaden your exposure and increase sales.
Kährs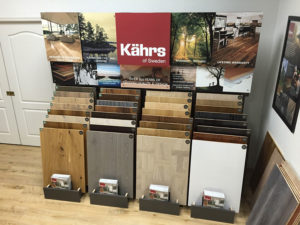 Kährs is a world-leading manufacturer of wood and vinyl floors with a long history of innovation and environmental sustainability. When they wanted to upgrade their existing displays to a "Premium Account" platform, they turned to Milford. We developed a three dimensional, engaging back wall graphic that could be added on to the displays, maintaining their relatively small footprint while creating an extremely impactful visual presentation.
Karastan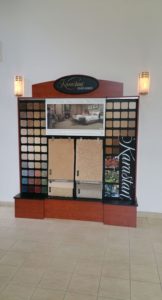 Karastan wanted a high end store fixture that they could offer to their key accounts that could present a large cross section of products in a relatively small footprint. We developed and built this display fixture that reinforced the quality of Karastan's products and enabled dealers to show an entire array of available product colors. We also included an efficient take home sample section to encourage customer interaction and increase the likelihood of a sale.
Serena by Lutron®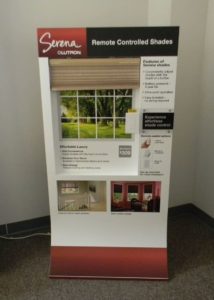 When developing a merchandising vehicle specifically for The Home Depot to promote the Serena Remote Control Shade product, Milford was challenged to create an effective, freestanding display that was engaging, educational, and interactive. The result was a compact, efficient display that included a working sample of the product for customers to try, key features and benefits of the product, and answers to FAQ so that customers can make an informed buying decision.
American Standard

High end store fixtures often require the right balance of comfort and elegance. Take, for example, The Champion line of toilets from American Standard. Engineers designed and developed this line of products to reduce water usage and provide clog-free operation. The client wanted an at home atmosphere in a retail environment to showcase the toilet in an interactive way, allowing consumers to visualize the differences in water usage and flush capacity.
The result was the Champion Flushing Display. Milford's team developed a retail based, hygienic, UL approved, flush demonstration display that uses a self-contained, fully integrated water source. The display also includes reusable, "flushable media" so that consumers have the opportunity to test the capabilities of the toilet.
Milford Enterprises: Your Trusted Source for High End Store Fixtures
If you are looking for innovative high end store fixtures that will help strengthen your branding and increase sales, call the experts at Milford: 215-538-2778 or email us at sales@milfordei.com. We are committed to quality, innovation, and 100% customer satisfaction, and our design team is ready to turn your display dreams into reality.