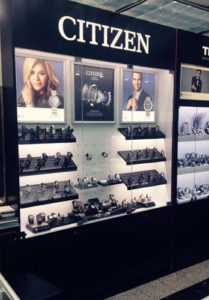 Why should your business invest in custom retail display services instead of buying "one-size-fits-all" displays from a bulk retailer? For the same reason we tailor suits and customize our homes: presentation and efficiency. When you want to put your best foot forward and make a lasting impression, tailored clothes make you look professional and trustworthy. We customize our homes to keep things clean and running smoothly, whether it's a larger kitchen for more efficient meal prep or a large mudroom to corral shoes and sports equipment.
The same principles apply to custom retail displays. They should help communicate your branding to customers and reinforce a pleasant shopping experience, while also helping to keep your store organized and efficient. Displays are meant to be moveable, customizable and versatile, easily adapting to meet the changing demands of your business. Milford's expert design team can help you build a retail environment that boosts your bottom line.
Our custom retail displays include:
Tables
Modular units
Slatwalls
No matter the size of your store, we can help you create a layout that maximizes sales and productivity.
Hear From Satisfied Customers of Our Retail Display Services
"I have been working with Milford Enterprises for the past 7-8 years. Milford has supplied a variety of equipment and displays for my store projects. Milford consistently provides timely, honest and effective service. Their years of experience, both in the retailer as well as the manufacturing side, allow them to draw on a very high level of expertise to any project we develop. Milford constantly strives to better understand potential issues and works to address them before they become problems. Milford is a trusted partner, who I count on when I have a project that requires a high level of attention and expertise. I would highly recommend Milford. They are one of those "go to" which are very hard to find in today's market." – Signet Jewelers
"Our experience with Milford has been nothing but professional. Their quality of work and commitment to our projects and our Brand has been unsurpassed. We rely on their attention to detail and how much they've guided us in not only design, but in layout, functionality and materials. They've made the process easy to follow and have stood by their workmanship. They are one of our highly recommended vendors." -Moxie Salon and Beauty Bar
We can design, build and deliver the high-quality displays and fixtures your business needs to succeed. We help you create a design plan that appeals to customers, reinforces your branding and increases sales efficiency. To learn more about our expert retail display services, call us today at 215-538-2778 or email us at sales@milfordei.com.